Is Jared Goetz A Scam?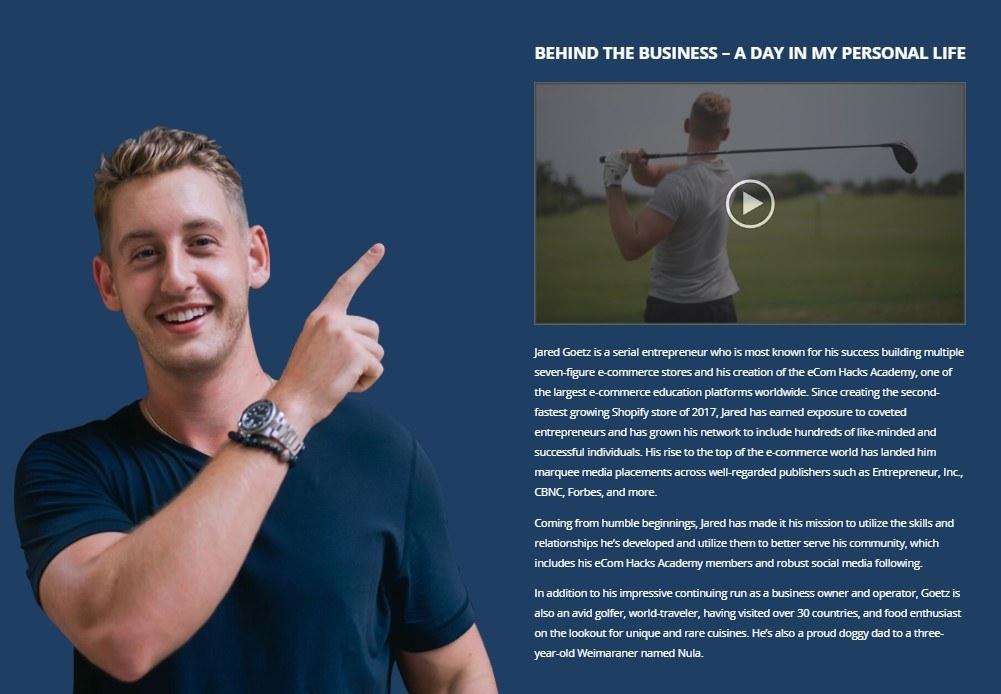 Jared Goetz is famous for having the fastest-selling online store when he started back in 2017. Coming off that success, he developed an e-commerce course that gives tips and instruction for online businesses. Let us look at more information about Jared in this article.
Jared the Man, His Story
Jared Goetz started his entrepreneurial activities by selling cheap goods that he sourced from China. His success led to him featured in Forbes, CNBC, among other publications. His strategy is to buy and sell trendy items until their appeal wanes, then turn to the next hot-cake products.
He developed an online course to teach his drop shipping methods, naming it eCom Hacks. The course focuses on e-business by using Facebook Ads and Shopify, utilizing drop surfing.
Jared's Drop Surfing System
The software identifies the trending goods on the web and picks up the viral ads for the product. It does this from the voluminous likes, comments, and other engagements.
The informed e-trader can now pick up the product or other comparable items and build their drop shipping campaign. Drop surfing is the trending period that the e-store rides out while selling and promoting their stock.
Facebook Ads Using Jared's Hacks
The aim is that you will direct traffic towards your e-store by using Facebook Ads. eCom Hacks will teach you two important things.
Finding the right goods to dropship.
Running a proper Facebook Ads campaign to market the product.
Also, the course gives two further tips that help you strategize appropriate Facebook Ads.
Have astounding media, images, and video, on your site because they are the determining appeal that draws attention and attracts customer clicks.
Ensure you have the correct targeting.
eCom Hacks Course Outline
Jared designed the course to instruct entrepreneurs how to create a profitable eCommerce business, in as short a time as a fortnight. It also claims that you will learn how to establish a million-dollar income enterprise in two months.
eCom Hacks sets out four modules, which they claim, are perfect for beginners and intermediates. Anybody with no prior business experience and technical knowledge will understand it easily.
The course structure generally follows the standard process for building a store.
Structuring your store
Techniques for conversions
Looking for products
Getting and working with suppliers
Drawing up and scaling ads
Customer service
Bonus Content Accessible to Members
Members will also gain access to bonus content that they can apply to their e-stores and boost their business profitability.
The theme that Jared uses which used to make $5M sales revenue
20 optimizing conversion hacks; the same plugins, features, and hacks that Jared uses
Advanced training in Facebook Ads
Viral winning product formula
Mentoring from experts
Community live streams
Email templates for abandoned shopping carts
Customer service with virtual assistants
Add a 1-800 number
Final Thoughts
The drop surfing method that Jared uses does work; he is valid proof of its value. You know that there is less risk because the products you are selling are undeniably popular. The course teaches you to identify the right products and then shows you how to sell them.
You will not have to work at building single product brands because you sell goods temporarily until their popularity wanes. However, you will have to stay on top of popular trends, which can be just as hard as building niche brands.