5 Best Online Thumbnails Maker For YouTube Videos
YouTube videos go viral when four things are incorporated into them. For a video to get more clicks on the YouTube platform, the videos should at least have these elements. Well design thumbnails, nice title, well-added tags and well-written descriptions.
According to YouTube, videos with nice thumbnails always get more clicks. Studies have shown that viewers respond better to visuals than texts. Therefore, creating visually appealing YouTube thumbnails can increase the CTR of a video and bring more traffic to the video being uploaded on a channel.
As a YouTuber, you might have known that, creating well design thumbnails required using more advanced editing software. This software's needs to be acquired from the developer and which cost you money. If your channel is not well optimizing to make cash from, you may not be able to purchase the software. But fortunately, there are many free tools available for making YouTube thumbnails.
These tools have well design templates you can choose and then edit them by adding your text, images and icons to complete the design. With these tools, no editing skills are required. Anyone can have well design thumbnails when editing with these tools.
If you're a YouTuber, looking for the best Thumbnails maker tools to help you create a professional thumbnail for your channel, this article is for you. This article is going to list the five (+1) best thumbnail makers to help you create stunning thumbnail images for a YouTube video.
Crello
Among the 50,000+ design templates available in Crello for any creative need you might think of, a decent number of them are Youtube thumbnail solutions. You can start with any pre-made Youtube video template that suits your needs, change texts, images, design objects, reposition the elements, and even add some motion with animation effects. You can even do all this from your phone because, luckily, Crello is available as a free app for both iOS and Android.
This design solution is somewhat similar to Canva in terms of the ease of use and drag-and-drop customization approach but definitely did a better job at design variations.
Canva
When it comes to online graphic design tools, the first we can think off is Canva. This tool is more than just a thumbnails maker; it can be used for all graphic design works. Canva is a number one tool that everyone today is taking advantage of when it comes to creating graphics.
It has more than one million photos, graphics, templates and fonts you can use to edit your graphics for free. The smooth drag-and-drop interface provides a seamless experience as you upload your images and texts.
The best part of this editing tool is that you can easily find all the graphics you've edited in your account and can re-edit them to add more text or icons to the already existing texts. Well sized templates of all the social media platform can be found on Canva.
Snappa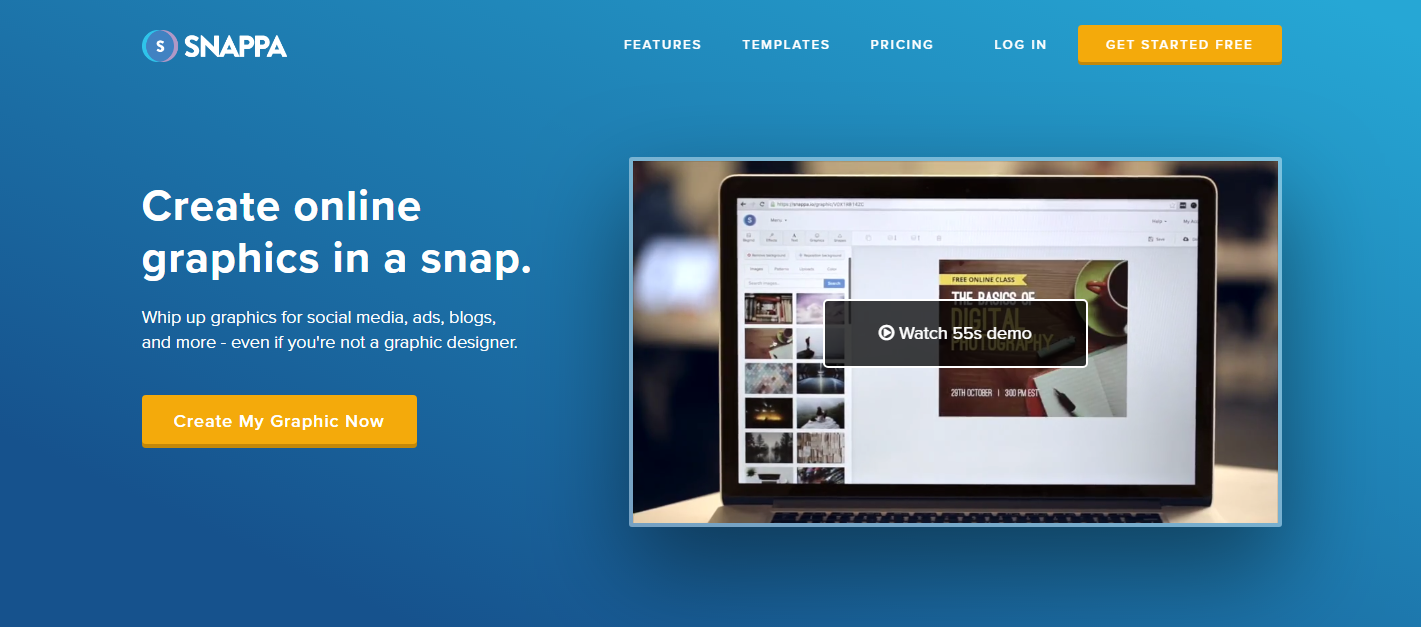 Snappa is one of the best graphic design tools for non-designers because of its flexibility and ease of use. Just like Canva, this tool offers a ton of templates for social media graphics as well as for YouTube thumbnails. Snappa tools also have a great library of social media templates that are premade for both designers and newbies. You don't need to have skills in graphic design before using these tools. All you need is to sign up for a free account and start using the pre-made templates for your thumbnails design.
Fotor
Another advanced photo-editing tool that you can use for your thumbnails is the fotor tool. Fotor has the best, clean and smooth interface to edit your Video thumbnails that will compel a viewer to click and watch the video on the YouTube platform. The Fotor platform has easy to use tools, so you won't need expert knowledge before you can create stunning thumbnails.
Fotojet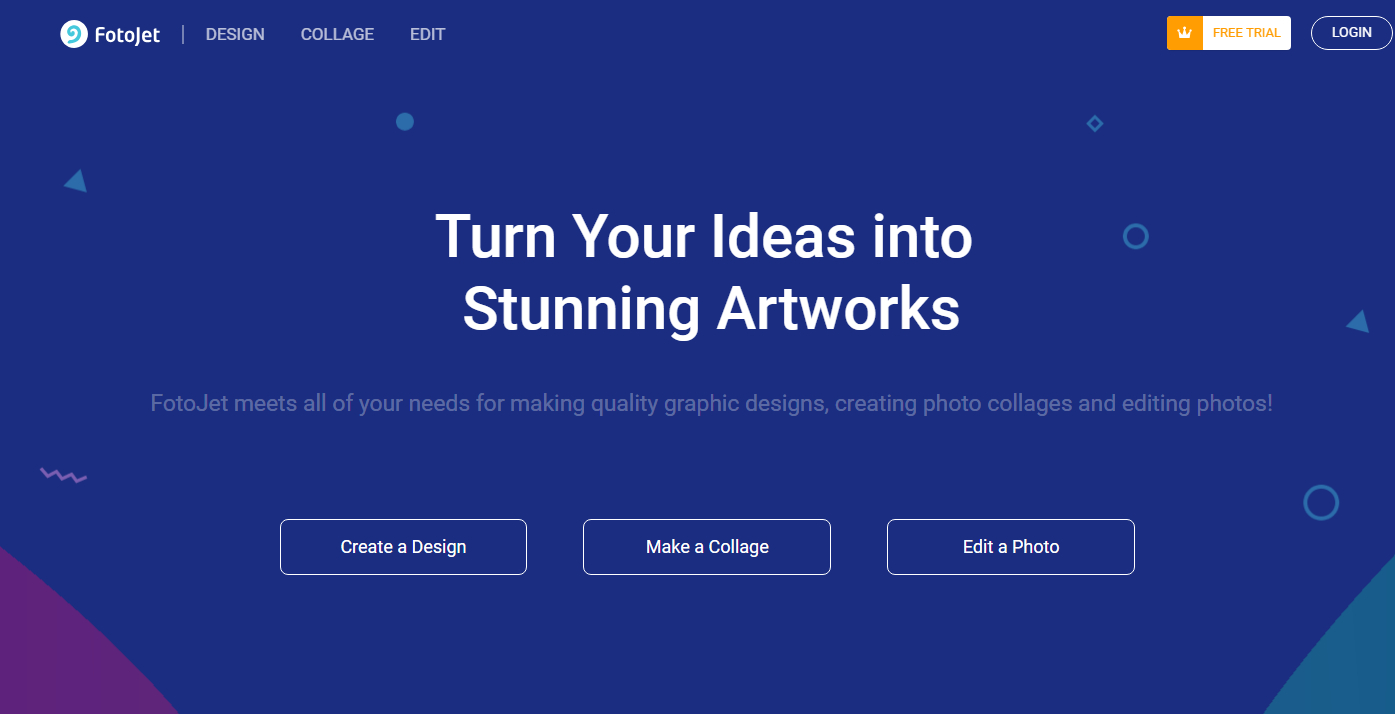 Unlike Canva and Snappa which provide graphic design functions in general, Fotojet pays special attention to YouTube thumbnail design. Not only does this online platform focus on YouTube thumbnails but, it also has over 500 collage making templates which can be used by anyone to create college memories. Fotojet can use this tool to add filters, resize, crop, or even rotate your images. It's simple to use interface that allows you to create superb thumbnails without any complications. With Fotojet, you don't need to sign up to before using the tools, just head over to the site and start designing your thumbnails.
Picmaker
Picmaker is another great online platform for graphic designs and other photo editing needs. This platform has one of the best interfaces for designing amazing thumbnails. On this platform, you get 100,000+ Graphic elements completely free, BG Burning Wand designed to create the perfect YouTube thumbnail and add fee Sticker Effect to give you the extra slice of creativity. All you need is to head to the site and begin to create your stunning YouTube thumbnails for your videos.
---
Final Thoughts
Creating a nice looking thumbnail can help you grow your channel by increasing the views and subscribers. Getting your hands on these free online platforms to design your thumbnails can help you come out with a great image as a video thumbnail, but that alone will not guarantee a successful channel.
As much as thumbnails play great roles in getting viewers to a video, the content of the video will also determine whether they will watch the video to the end or they will leave the video as soon as they start to watch. So is good to always come out with good video content and then accomplish it with this nice thumbnail for a successful channel.
Have you ever come across any online thumbnail maker that you may want to share? If yes then comment in the box below form us to also take a look at them. Thank you for stopping by to read and see you in the next post. You can sign up for our mailing list to be added to the list and be among the first to get notified whenever we publish new content on this blog.